Some of the links included are affiliate links, which means that if you choose to make a purchase, I will earn a commission. This commission comes at no additional cost to you. I recommend these products because they are helpful and useful; not because of the small commissions I make if you decide to buy something.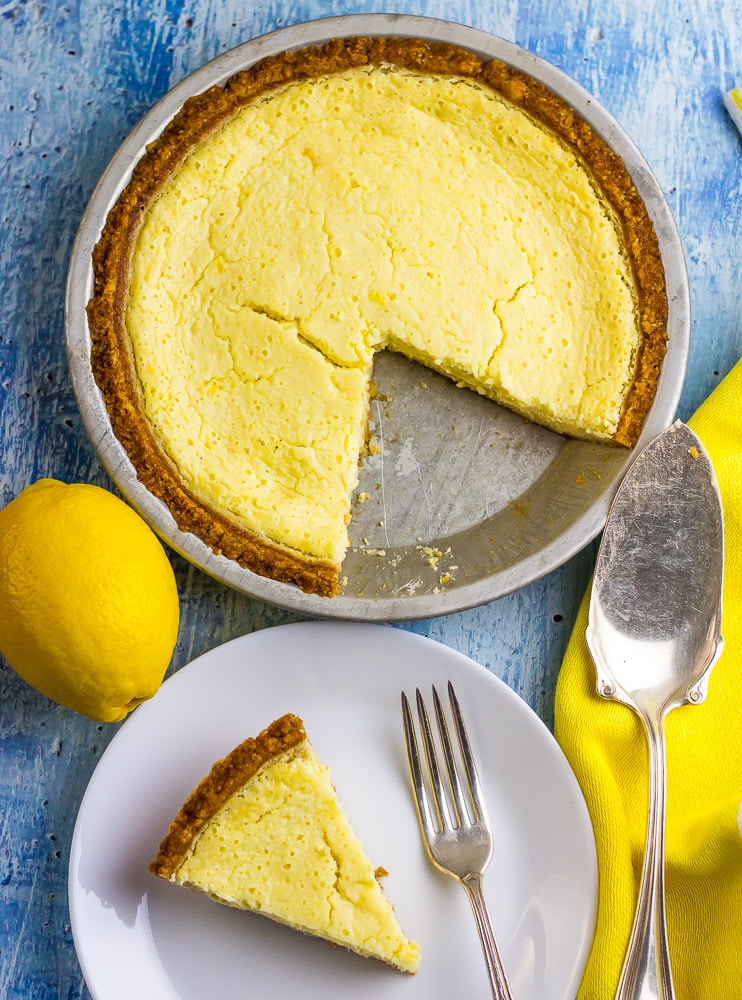 You asked for more lemon
After posting my Lemon Cream Raspberry Popsicles and sharing my Iced Lemon Pound Cake there was a cry for MORE lemon. My Lemon IceBox Pie has been a favorite of my children for decades. Unfortunately the original version is filled with so much sugar. Not anymore!!
I stripped the sugar from the original delicious and creamy dessert! I was able to maintain the tartness and the graham-like pie crust using some of my keto tricks…Lakanto Monkfruit sweetener, heavy cream and almond flour play big in this delightfully chilled summer treat.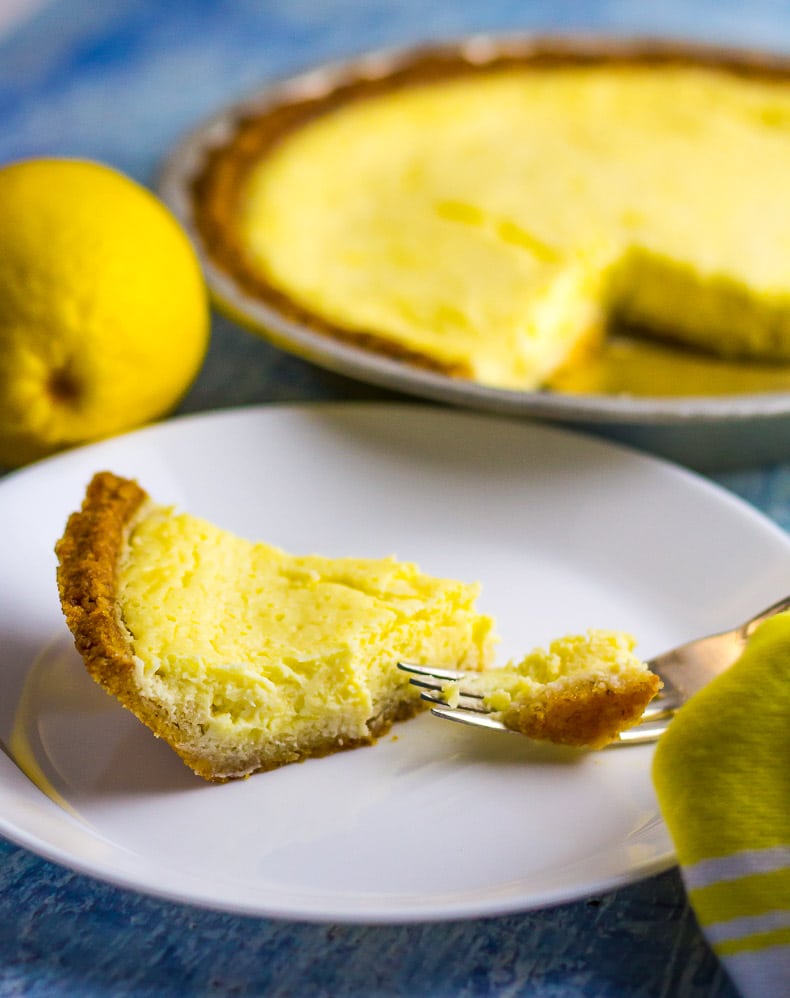 Replacing the canned sweet milk
Remember those cans of sweetened condensed milk that live in the back of your pantry for years? Well, it's sweet and thick and creamy. But those canned suckers are filled with a bunch of stuff I can't even read. So, I had to figure out how to make it from scratch.
I've had those cans in my kitchen for as long as I can remember and they are so easy. That's why that company makes them…they are easy and have a shelf life of a million years. But my Lemon IceBox Pie needed to be made NOT using that sugar laden canned stuff.
Little secret
The canned stuff became so popular because housewives and home cooks needed something quick. Well, sorry folks…when you condense a liquid it takes time on the stove to simmer down.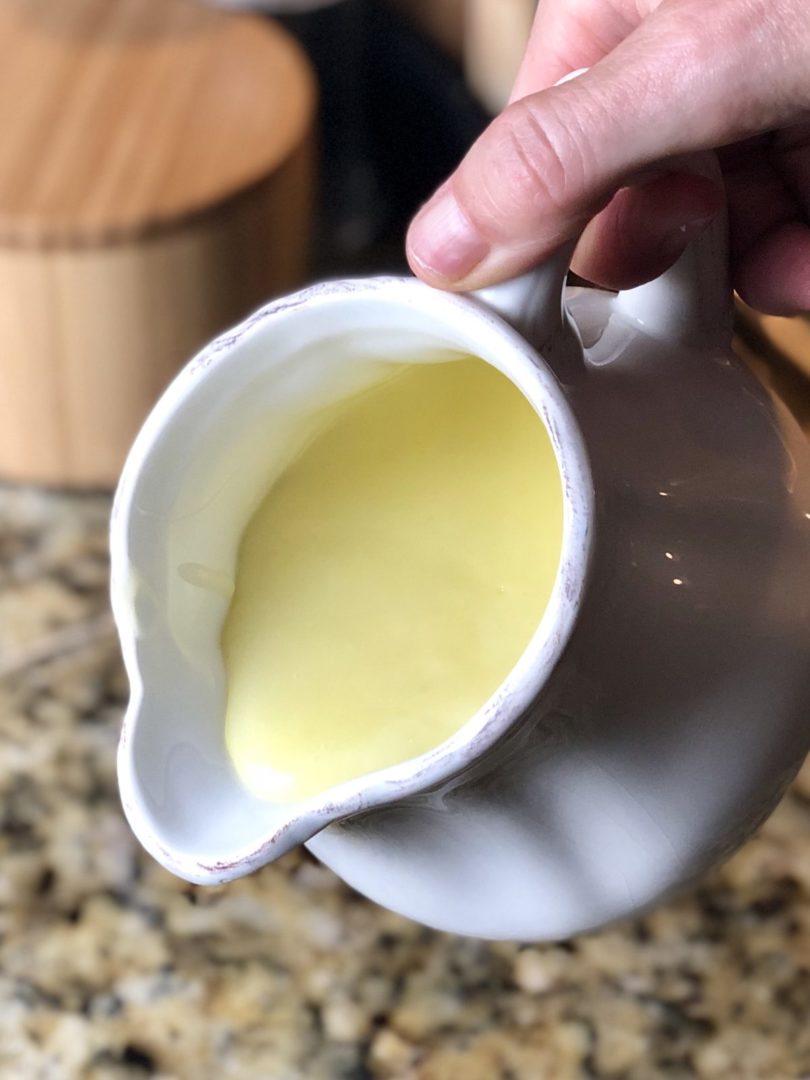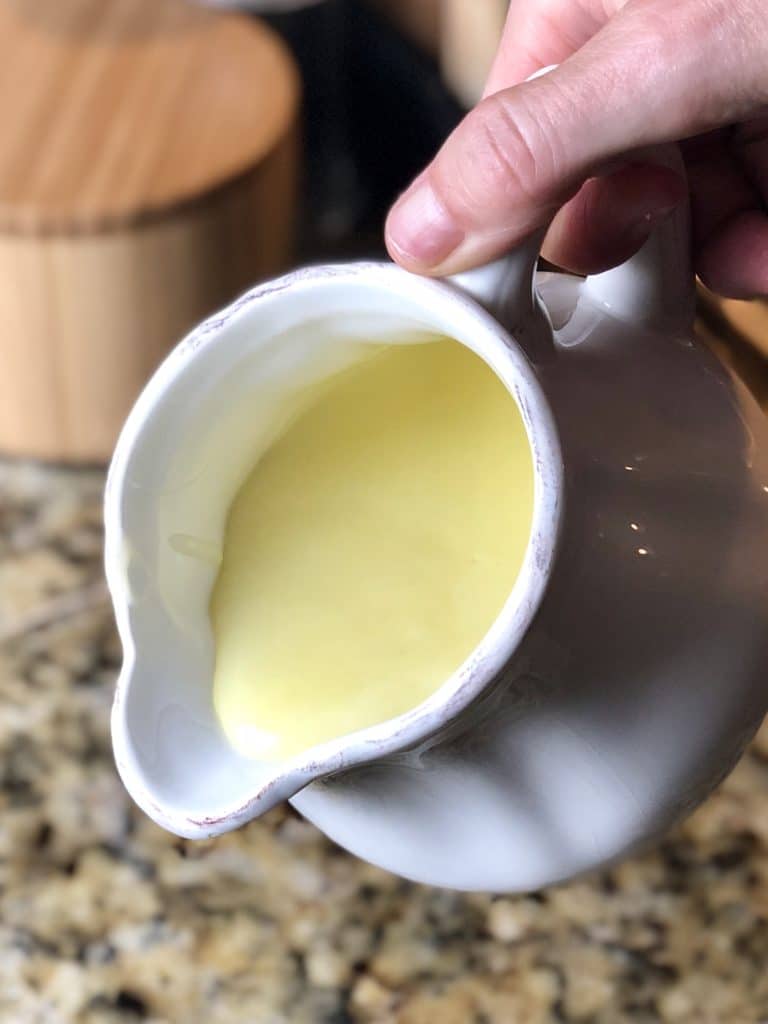 Don't despair though. My "sweetened condensed milk" also known as my Keto Creamer takes about 30 minutes to make. You can keep in the fridge for a few weeks AND has many uses!
Just a few ingredients in a wide bottom sauce pan simmering. It takes about 30 minutes makes this creamer thick and sweet. I use this Keto Creamer in my Lemon IceBox Pie, so this pie is kinda two steps…sorry.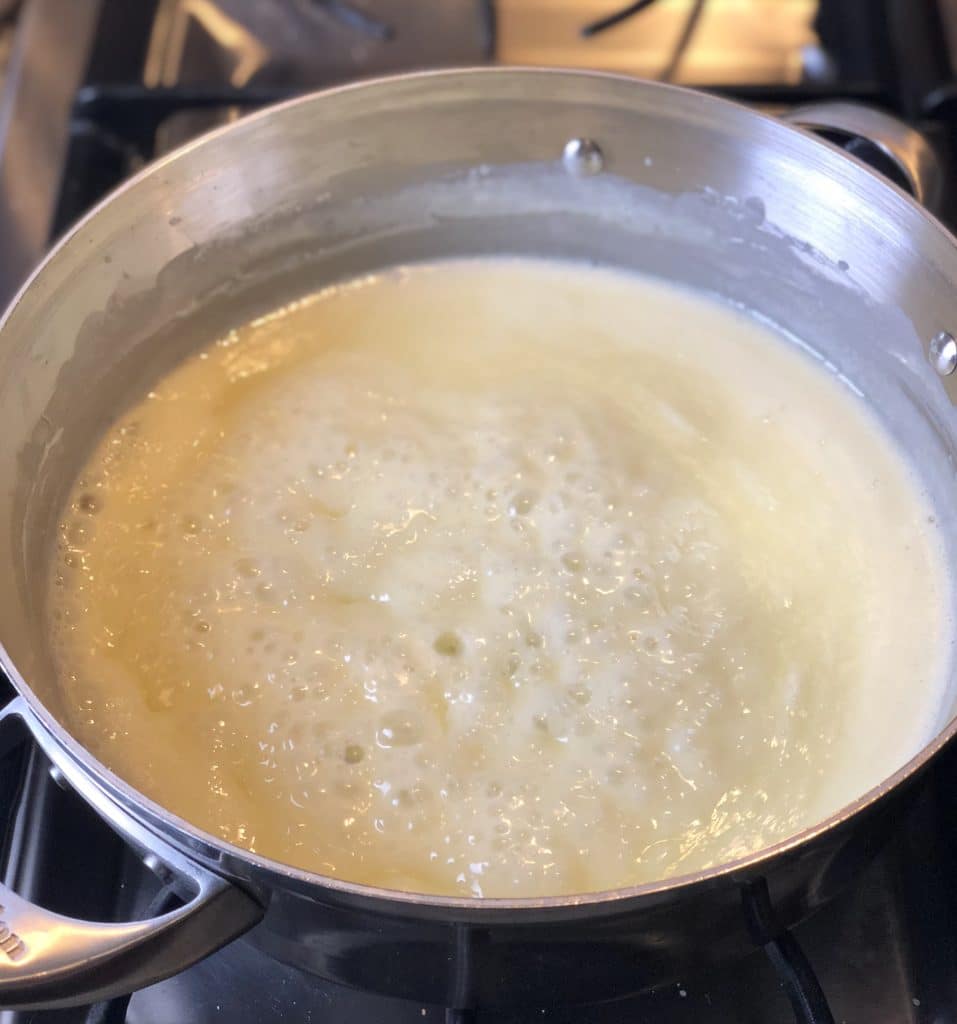 If you have this Keto Creamer on hand then you are ready to make this pie really quickly. 25-30 minutes in the oven and then an hour in the fridge and you are done!
Magic Bars
I even use this Keto Creamer to make one of my most popular recipes…Keto Magic Bars! Remember this fun and easy dessert? I think the company that created canned sweetened condensed milk came up with the original recipe for 7 layer bars. You can call them what you want, but I call them MAGIC!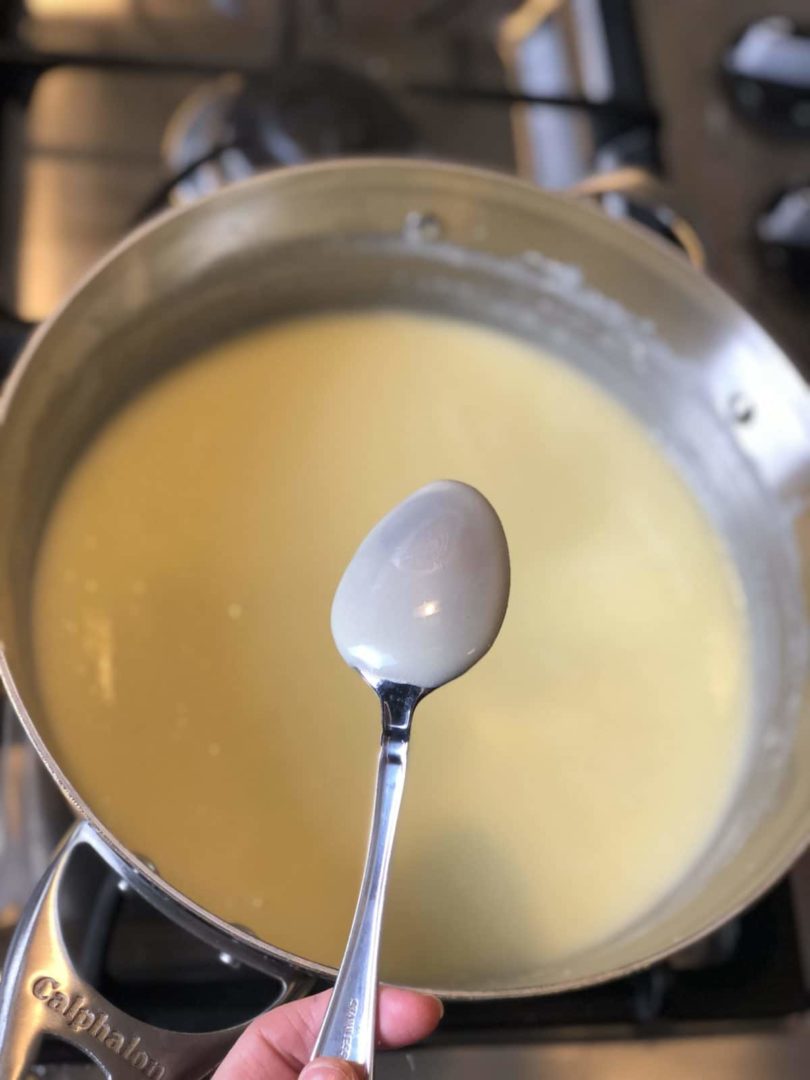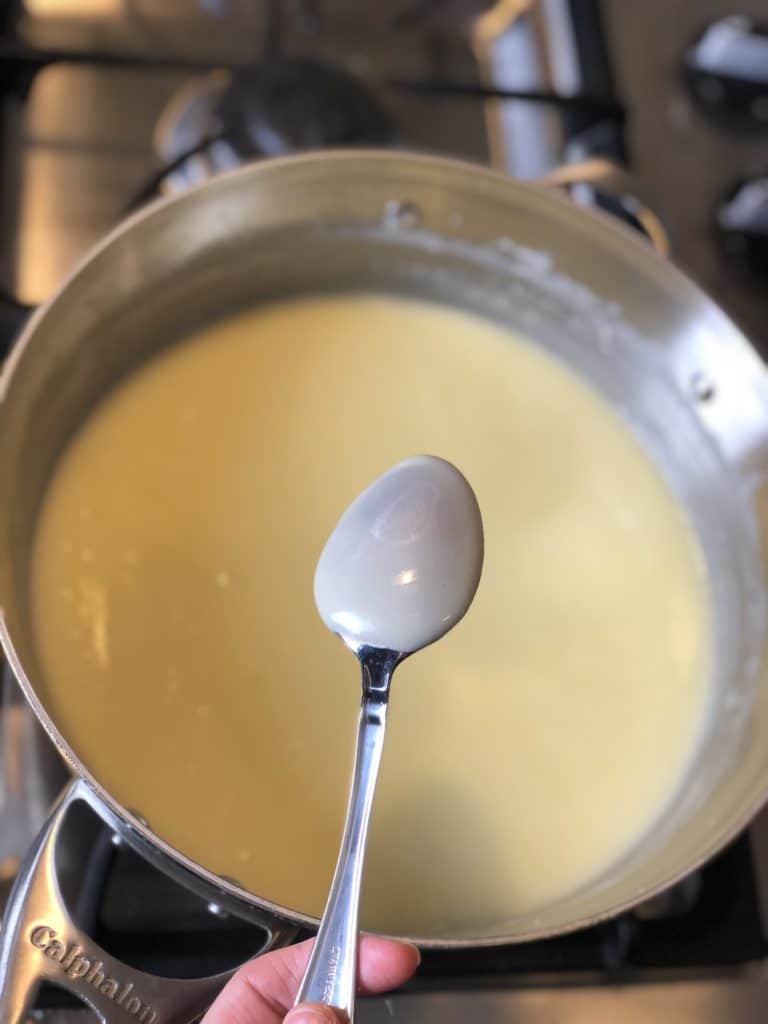 Not a quick dessert, but worth it!
I'm not going to lie and say this Lemon IceBox Pie is whipped together in a nanosecond. However, this one is worth the time. AND it keeps in the fridge for up to a week.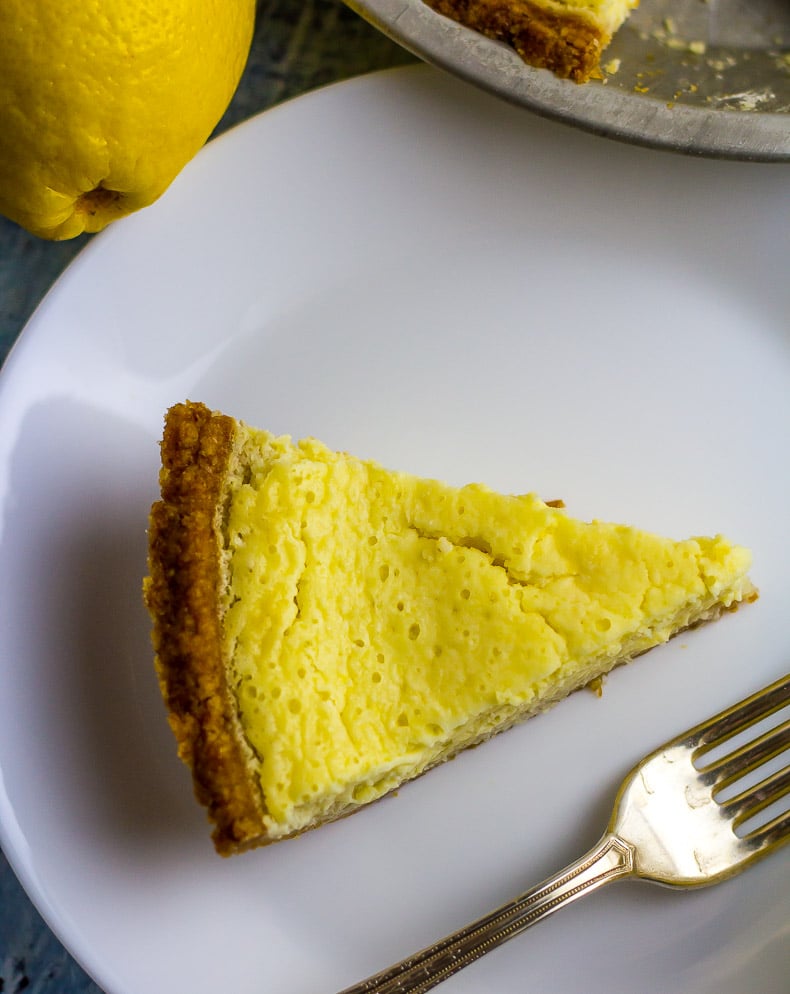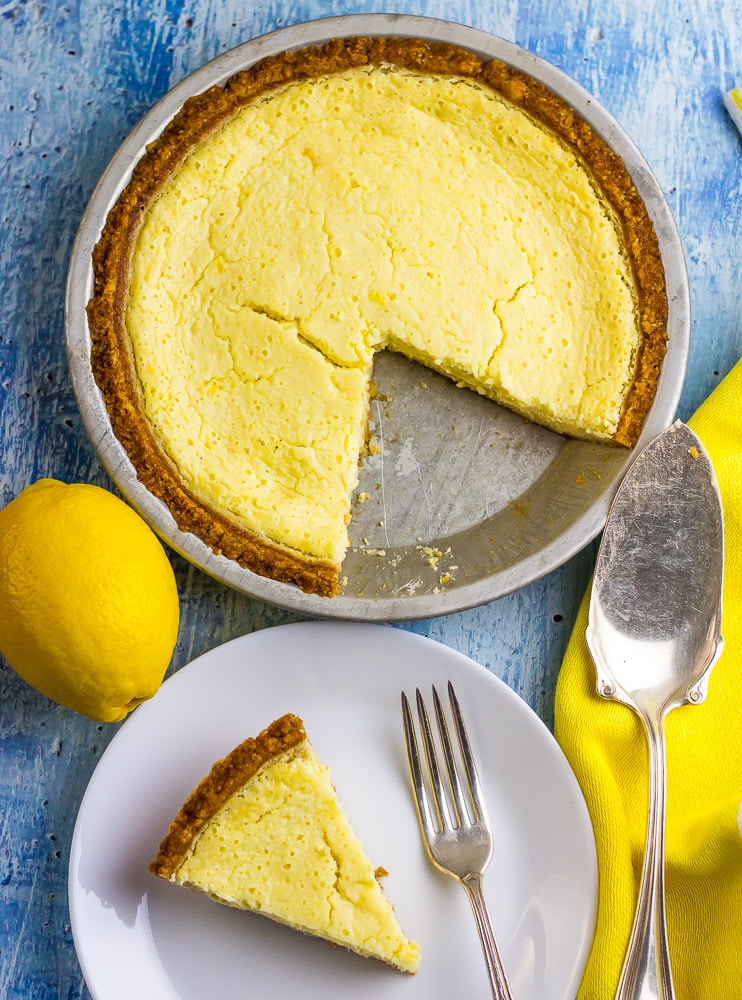 Instructions
Press pie mixture into a regular 9" pie tin up the sides and evenly across the bottom. Place in 350* oven for 8 minutes. Remove from oven and set aside to cool.

Add creamer mixture to egg mixture. Using a hand mixer whip together the filling ingredients until combined and smooth.

Pour lemon filling into baked pie crust and place in 350* oven for 20-25 minutes. Check for doneness. Center should be just the tiniest bit jiggly.

Remove pie from oven and place on counter to cool. Once the pie has cooled a bit (up to an hour) place in the fridge for at least one hour.

This Lemon IceBox Pie is meant to be served cold. When ready to serve simply slice and enjoy. Pie slices into eight pieces, but you could do even smaller slices to lessen the carb count.

This pie can be covered and stored in the freezer for up to 2 weeks, but then you must thaw in the fridge before serving.
Nutrition
Calories:
162
kcal
|
Carbohydrates:
5
g
|
Protein:
5
g
|
Fat:
14
g
|
Saturated Fat:
5
g
|
Cholesterol:
77
mg
|
Sodium:
74
mg
|
Potassium:
38
mg
|
Fiber:
2
g
|
Sugar:
1
g
|
Vitamin A:
265
IU
|
Vitamin C:
5.9
mg
|
Calcium:
44
mg
|
Iron:
0.8
mg
Tried this recipe?
Tag it on Instagram! #thekelliekitchen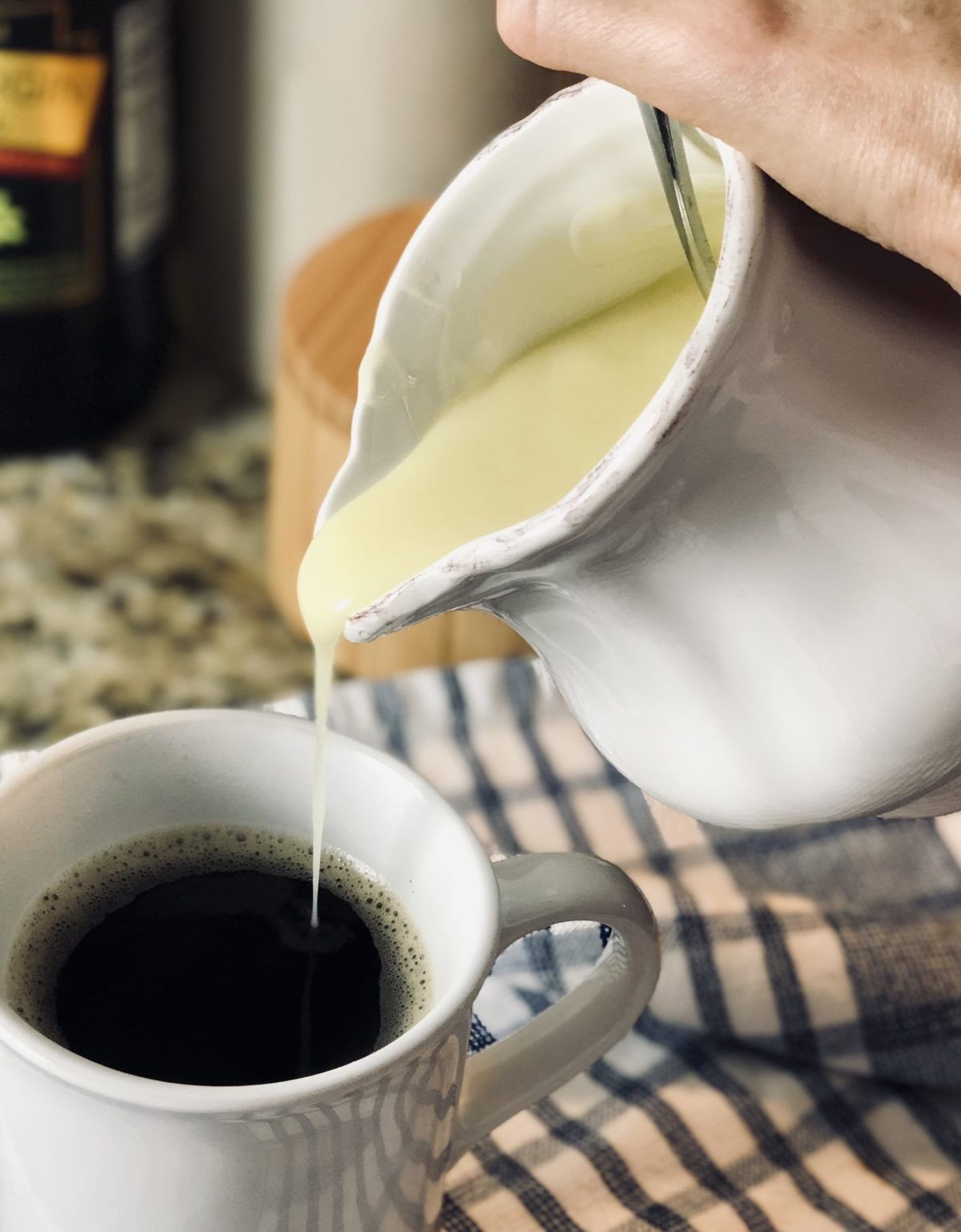 Ingredients
2

cups

heavy whipping cream

2

tbsp

butter

1

tsp

vanilla
Instructions
In large saucepan heat together over medium heat the cream, butter, vanilla and sweetener of choice. Bring to a boil and then turn heat down to a slow bubbling simmer.

Occasionally stir gently with a wire whisk for 20-30 minutes. Watch as the cream thickens, careful not to scorch.

When cream coats the back of a spoon take off the heat and pour into a clean wide mouth jar. Set aside to cool. Store in fridge for several weeks.

Put 1-2 tbsp of creamer per each large cup of coffee. Stir until your morning coffee is fully smooth and creamy.
Notes
Store in fridge for up to 2 weeks.
Nutrition
Serving:
2
Tbsp
|
Calories:
929
kcal
|
Carbohydrates:
7
g
|
Protein:
5
g
|
Fat:
100
g
|
Saturated Fat:
62
g
|
Cholesterol:
357
mg
|
Sodium:
192
mg
|
Potassium:
179
mg
|
Sugar:
1
g
|
Vitamin A:
3855
IU
|
Vitamin C:
1.4
mg
|
Calcium:
155
mg
Tried this recipe?
Tag it on Instagram! #thekelliekitchen
Nutrition information can vary for a recipe based on factors such as precision of measurements, brands, ingredient freshness, or the source of nutrition data. We strive to keep the information as accurate as possible. While we do use a standard web-based nutrition calculator, we make no warranties regarding its accuracy. We encourage readers to make their own calculations based on the actual ingredients used in your recipe, using your preferred nutrition calculator.
To calculate Net Carb count with sugar alcohols, we simply subtract grams of sugar alcohols (including glycerin), as well as fiber, from total grams of carbs.
(Visited 647 times, 3 visits today)