I have been on a quest for good Low Carb Peanut Butter cookies for the better part of a year. When my daughter was young I found an awesome gluten free recipe that just called for 4 ingredients-peanut butter, egg, sugar and baking soda. How hard could it be to just replace the traditional sugar?!?!?! I could not have been more wrong.
Some of the links included are affiliate links, which means that if you choose to make a purchase, I will earn a commission. This commission comes at no additional cost to you. I recommend these products because they are helpful and useful; not because of the small commissions I make if you decide to buy something.
Peanut Butter, there's only one choice for me
The first and most important ingredient being peanut butter in my Low Carb Peanut Butter Cookies must be a brand that only contains peanuts…and maybe a little salt. Natural peanut butter that naturally separates is the only peanut butter that really works with these cookies. There's a rustic and earthy flavor with natural peanut butter for these cookies. I suppose you can try natural Skippy or Jif or even Whole Foods 365 for a creamier peanut butter, but an all-natural version is a must for these cookies. I like the way you have to stir the oils back into the nut puree in the jar. And after mixing in the jar the mixture tends to be a bit runnier and pourable…does that make sense? And thinner/runnier peanut butter is needed to keep the dough from being too dry….trust me.
Laura Scudder's Creamy All Natural
My brand of choice has always been Laura Scudder's All Natural Peanut Butter. You can get it at most regular supermarkets and it's usually on sale. But you can also get online HERE And this is what it looks like…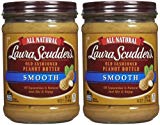 Eggs and baking soda are regular items, but the last two items are relatively "special". Liquid Stevia and Allulose can be bought online…however you may be able to find liquid stevia at your regular supermarket.
Replace the sugar
The sweetness for these Low Carb Peanut Butter cookies comes from Allulose, a "rare" sugar NOT yet available in stores. You can easily buy Allulose online HERE in the States and I imagine it won't be long until you find it everywhere and in everything.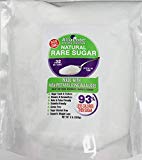 The lil extra bump of sweet
The other thing I needed to think about is that Allulose is only about 70% as sweet as table sugar, so I added 10 drops of liquid Stevia. I don't really want to say this step is optional because everything I did with this recipe is necessary to come out with the best Low Carb Peanut Butter Cookies, however if you don't want the cookies as sweet then I suppose you can omit the Stevia…but you've been warned.
The freezing part…just a few mins!
This is kind of an interesting part of the process in my Low Carb Peanut Butter Cookies….
After I make the dough I use a small ice cream scooper (about 1 tbsp per scoop) and place cookies on a parchment lined cookie sheet about 20 cookies. You can put them all close together because you won't be cooking them this way. This is simply to freeze the dough before you bake. I cross squash each ball of dough with a fork to get it ready for baking and then I put the whole cookie sheet in the freezer. At least 5 mins in the freezer, but you can keep them in there for weeks as long as you wrap them up.
The cooking of the Low Carb Peanut Butter Cookies
When you are ready to bake your cookies, remove however many you want to bake and place on a cookie sheet. It's important to note that Allulose browns as quick, if not quicker than regular sugar. With these Low Carb Peanut Butter Cookies I bake them at 350* on the middle shelf of the oven for 8-9 minutes. You must watch and not over cook your cookies as they WILL burn if you let them go over even 30 seconds.
Adding Chocolate, yes please!
This part is optional, but peanut butter and chocolate is a classic. If I'm going to use chocolate my only choice is Lily's Stevia Sweetened Chocolate Chips. You can melt some in the micro and drizzle over or be like me and just sprinkle a few over your hot out of the oven cookies. They will melt right in to the cookies and then cool/harden right on the cookies like this…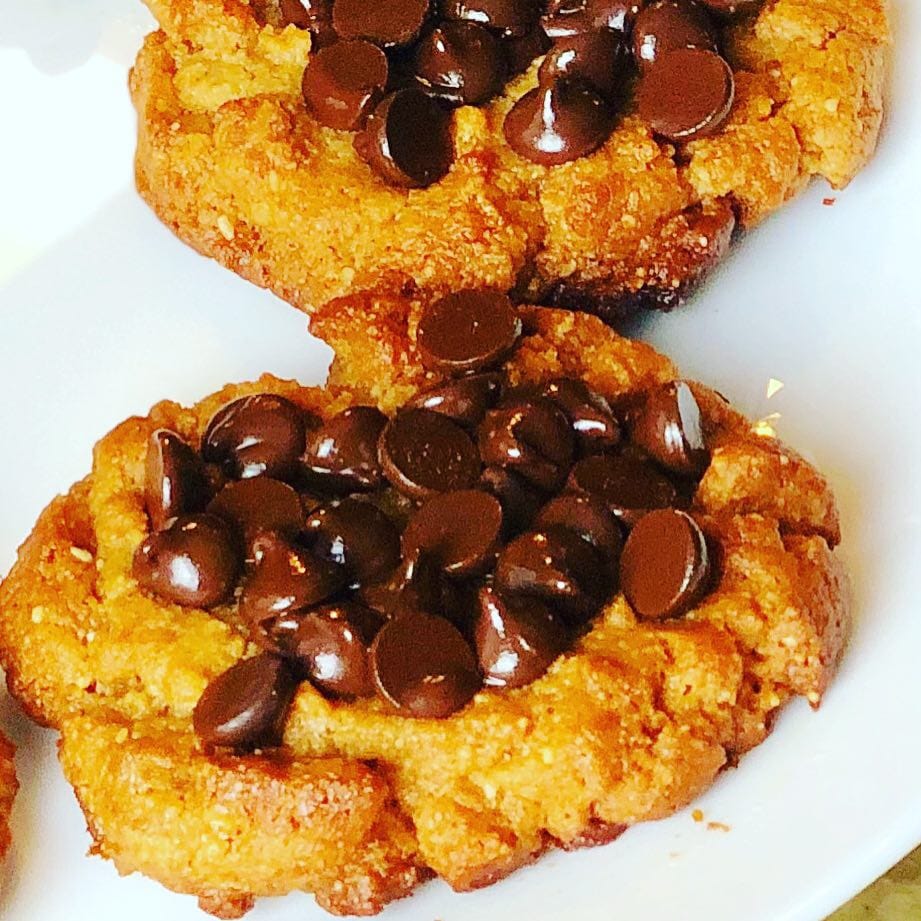 Storage for a late night snack…
I like to store these cookies in an airtight container in the fridge, but freezer or counter work well too. Usually these Low Carb Peanut Butter Cookies go so fast I don't need to store. Enjoy!
freezing time:
20
minutes
Ingredients
1

cup

peanut butter

Laura Scudder all natural creamy

¾

cup

Allulose

a rare sugar

1

egg

5

drops

liquid stevia

1

tsp

baking soda

6

oz

Lily's Chocolate Chips

optional
Instructions
Mix all ingredients together in a bowl.

Using a 1 tbsp ice cream scooper (or just a spoon) scoop balls of dough onto a parchment lined cookie sheet (about 20 balls per recipe). Cross hatch each ball of dough with a clean fork.

Freeze tray of cookie dough for at least 5 minutes, but preferably 20 minutes and up to a few weeks if you want to wrap up frozen dough to bake at a later date.

Place frozen cookie dough on new parchment lined cookie sheet about 2" apart into a 350* oven on the middle rack. Bake for about 8 minutes…watching towards the end of the bake time as to not burn the cookies.

Optional…when you pull the cookies hot out of the oven sprinkle with a few Lily's

chocolate chips

and let them melt into the cookies.

Let cookies rest for several minutes to cool and set.

Store uneaten cookies in an airtight container in the fridge for up to a week…if they last.
Notes
Please note that all nutritional information is calculated by a web service and I do my best to be as accurate as possible with the tools and package ingredients that are provided to me. Allulose is a non-digestible sugar.  The FDA recognizes Allulose as a sugar which contains carbohydrates.  However, Allulose is not digested, therefore does not alter blood glucose levels.  Please se advice from a qualified nutrition expert of scientist should you have further questions.  The best measure of Allulose affects on your blood sugar levels is to test your glucose levels yourself. Also, I did not add in the nutrition information for the chocolate chips.  Should you decide to use them you must calculate in your own measurements.
Nutrition
Serving:
1
cookie
|
Calories:
78
kcal
|
Carbohydrates:
2
g
|
Protein:
3
g
|
Fat:
6
g
|
Saturated Fat:
1
g
|
Cholesterol:
8
mg
|
Sodium:
125
mg
|
Potassium:
86
mg
|
Sugar:
1
g
|
Vitamin A:
0.2
%
|
Calcium:
0.7
%
|
Iron:
1.6
%
Tried this recipe?
Tag it on Instagram! #thekelliekitchen
Nutrition information can vary for a recipe based on factors such as precision of measurements, brands, ingredient freshness, or the source of nutrition data. We strive to keep the information as accurate as possible. While we do use a standard web-based nutrition calculator, we make no warranties regarding its accuracy. We encourage readers to make their own calculations based on the actual ingredients used in your recipe, using your preferred nutrition calculator.
To calculate Net Carb count with sugar alcohols, we simply subtract grams of sugar alcohols (including glycerin), as well as fiber, from total grams of carbs.
(Visited 411 times, 1 visits today)