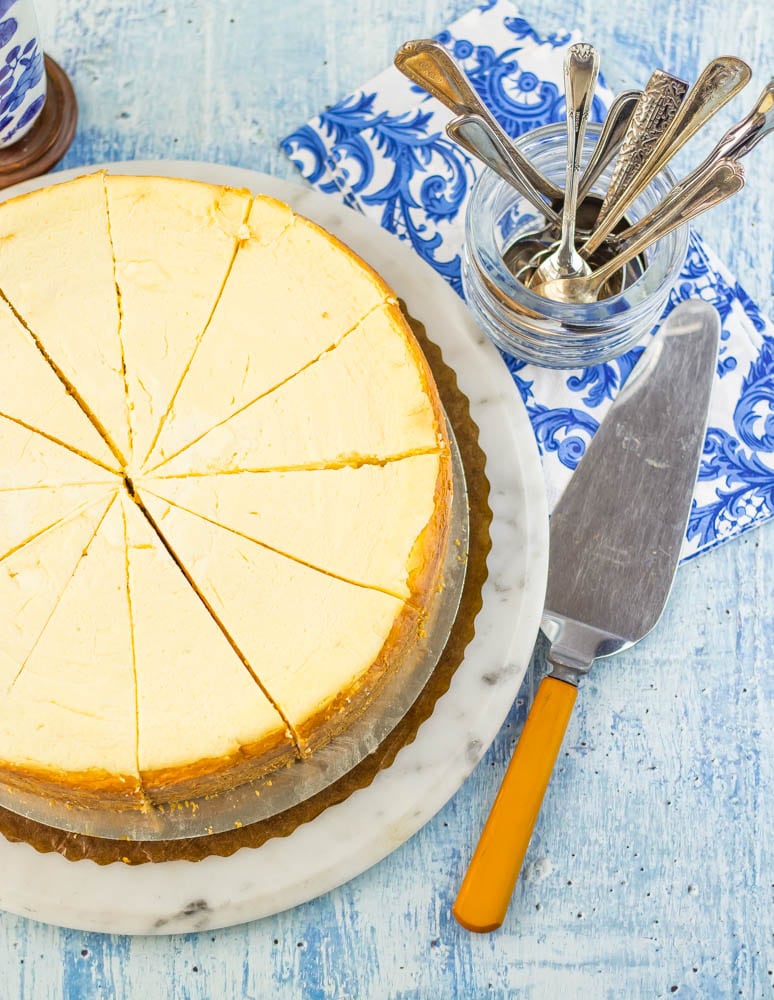 Some of the links included are affiliate links, which means that if you choose to make a purchase, I will earn a commission. This commission comes at no additional cost to you. I recommend these products because they are helpful and useful; not because of the small commissions I make if you decide to buy something.
A Classic Dessert
First of all…DO NOT be intimidated by how professional this Low Carb Cheesecake looks. These are simple keto friendly ingredients like almond flour, Lakanto Monkfruit Sweetener (blend of monkfruit and erythritol) and cream cheese. If you follow the steps listed in the recipe this is almost fail proof dessert.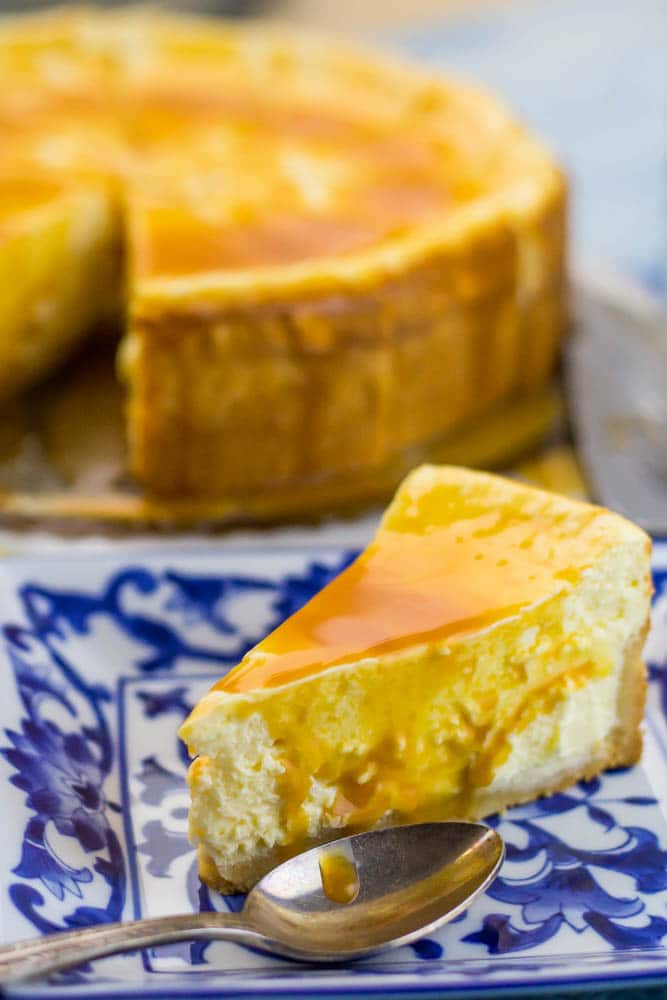 I'm always amazed when I show up at the Cheesecake Factory restaurant and there are HUGE cases filled with every imaginable flavor of cheesecake. So So SOOOOOOO many flavors. Impressive, but I'm a simple gal. I like a classic slice of Low Carb Cheesecake.
Cheesecake Factory is over the top!
Did you also know that each slice of Cheesecake Factory "Original Cheesecake" has 63g total carbs (62g net carbs) PER SLICE? Holy blood sugar spike!!! That sounds like a sugar bomb on a plate that needs to be avoided. Here's the full nutritional breakdown from that sugar factory.
I don't need my dessert to be a slice of cake covered in candy bars and cookies and whipped cream and sauce. Who does and why do people think this is ok? The winner for the highest carb count for a Cheesecake Factory slice is the "Oreo Dream Extreme Cheesecake" coming in at 177g carbs per slice (170g net carbs PER SLICE). Why is that necessary?
Simple, delicious & low carb
A simple slice of classic Low Carb Cheesecake fits the bill for me. Occasionally I like some added berries or a drizzle of salted caramel, but you get to decide. And at 4g net carbs per slice your blood sugar, your liver and your waistline will thank you!
Keto Crutch
As you guys know, we don't really do sugar on Keto. The key for me is to stay away from sweets most of the time. And truth be told I'm usually so satisfied with my fat-filled meal that I can't eat another bite. However, there are those times (holiday, celebration and that monthly need for some chocolate) that I just want something.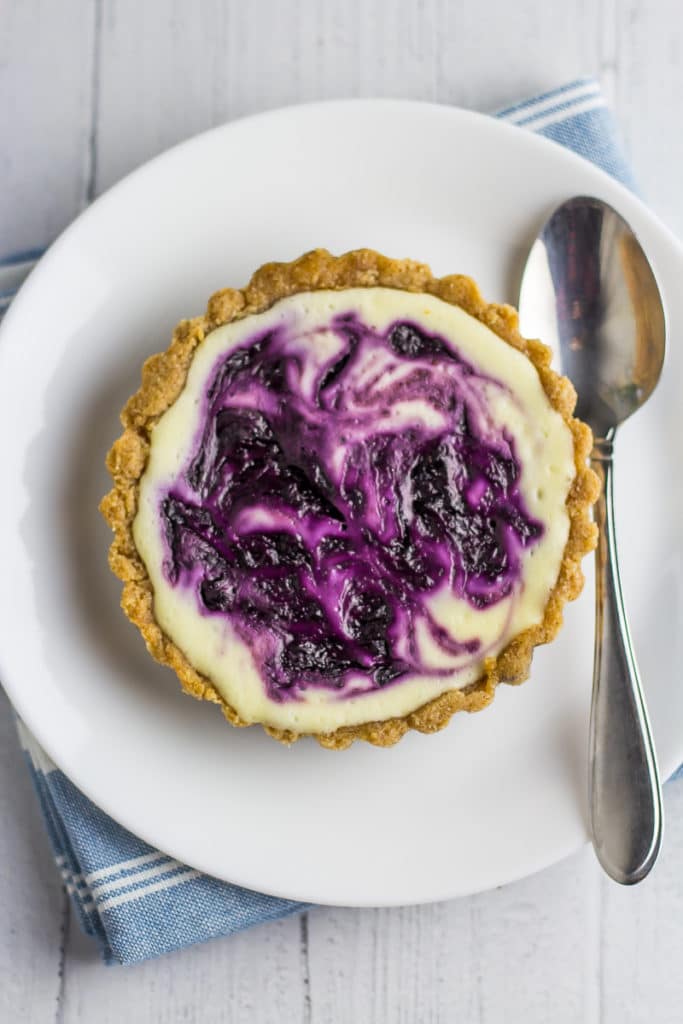 My "Keto Crutch" is a dessert that's low carb. I can have a small piece of Lily's Stevia sweetened chocolate or even one of my Keto Strawberry Cheesecake cups and satisfy the urge without blowing it.
RELATED ARTICLES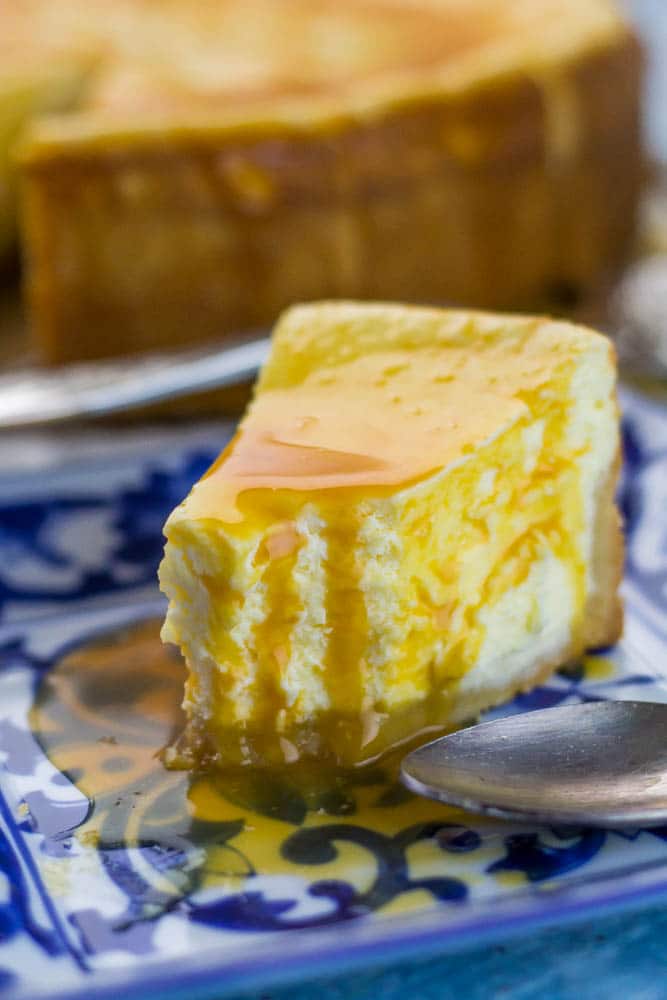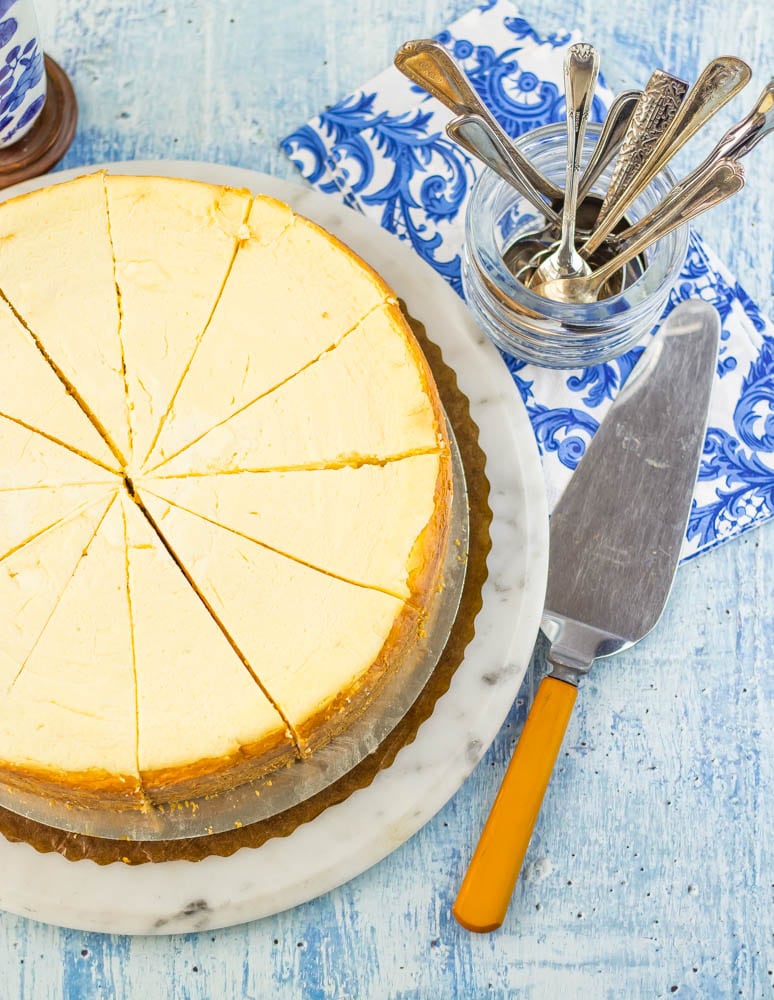 Resting and chilling:
4
hours
30
minutes
Total Time:
5
hours
55
minutes
Ingredients
Cheesecake Filling
32

oz

cream cheese

must be room temperature

1 1/4

cup

Lakanto Monkfruit Sweetener

3

large eggs

must be room temperature

1

tbsp

lemon juice

1

tsp

vanilla extract
Instructions
Preheat oven to 350*. Prepare 9" springform pan with oil spray or line the bottom of the pan with a round piece of parchment paper. Set aside.

In a medium clean bowl mix together the almond flour, melted butter, sweetener, and vanilla extract. The crust mixture will be slightly crumbly. Press the dough into the bottom and slightly up the sides of the prepared pan. I like to go about ½"-1" up the side of the pan. Bake the crust for about 10-12 minutes or until slightly golden. Remove from oven and set aside to cool for at least 10 minutes.

Using a hand mixer (or stand mixeon medium speed whip together the room temperature cream cheese and powdered sweetener together at medium speed until fluffy. Mix in the room temperature eggs one at a time until fully incorporated. The last step is to add in the lemon juice and vanilla extract.

Pour the cheesecake filling over your slightly cooled crust and smooth the top with a spatula. Bake cheesecake in 350* oven for about 45-55 minutes. I like to bake on the middle rack as to not be too close to the top or bottom coils in the oven. Check your cheesecake at about 40 minutes to see if the center is almost set, but still jiggly. Bake the cheesecake up to 10 more minutes if you feel the center is still a bit wet.

When you notice the cheesecake is set on the outer edge and still has a little movement in the center turn off the oven. Leave the cheesecake in the oven with the oven turned off and the door slightly ajar for another 30 minutes. I like to prop the oven door open with a wooden spoon. I use this step to help prevent cracking.

My cheesecakes are not always perfect, but this step helps against a cracked top. Please note that a cracked top does not mean you have done anything wrong. Much of a cracked top has to do with the temperature of your ingredients, how much you whip you batter and the temperature change in the oven. Regardless if your top is smooth or cracked, there is no difference in taste.

Remove the cheesecake from the oven and set on the counter to cool. Run a knife around the edge while the cheesecake is still warm. DO NOT yet remove the outer ring. Cool in the cheesecake to room temperature, then refrigerate for at least 4 hours (preferably overnight), until completely set.

Serve with my Keto Salted Caramel Sauce or a fresh berry sauce if desired.
Notes
*Please note that this cheesecake is rich and decadent so you do not need to serve large pieces. I like to slice this cheesecake into 14 pieces, which make this a great dessert for a party. **Also note that this cheesecake freezes so beautifully. You can freeze individual pieces or freeze the whole cheesecake, then thaw and serve.
Nutrition
Calories:
366
kcal
|
Carbohydrates:
6
g
|
Protein:
8
g
|
Fat:
35
g
|
Saturated Fat:
16
g
|
Cholesterol:
118
mg
|
Sodium:
260
mg
|
Potassium:
102
mg
|
Fiber:
2
g
|
Sugar:
3
g
|
Vitamin A:
21.1
%
|
Vitamin C:
0.5
%
|
Calcium:
10.4
%
|
Iron:
5.6
%
Tried this recipe?
Tag it on Instagram! #thekelliekitchen
MEDICAL DISCLAIMER…Please note that I am not a medical or nutritional professional. I am simply recounting and sharing my own experiences on this blog. Nothing I express here should be taken as medical advice and you should consult with your doctor before starting any diet or exercise program. I provide nutritional information for my recipes simply as a courtesy to my readers, this should never be construed as medical advice.
Nutrition information can vary for a recipe based on factors such as precision of measurements, brands, ingredient freshness, or the source of nutrition data. We strive to keep the information as accurate as possible. While we do use a standard web-based nutrition calculator, we make no warranties regarding its accuracy. We encourage readers to make their own calculations based on the actual ingredients used in your recipe, using your preferred nutrition calculator.
To calculate Net Carb count with sugar alcohols, we simply subtract grams of sugar alcohols (including glycerin), as well as fiber, from total grams of carbs.
(Visited 1,342 times, 1 visits today)