Pumpkin Pecan Cheesecake Tart
It's Holiday Baking Season
Pumpkin Pecan Cheesecake Tart might just be the answer I have been looking for. Truth be told I am not a fan of Pumpkin Pie. However, I do like cheesecake and candied pecans and this "graham" cracker crust very much.  And…I like pumpkin flavor, but there's something so sad about the basic traditional pumpkin pie.  Maybe it's the thick puree of pumpkin that's not for me, but I'm here to change all that with my Pumpkin Pecan Cheesecake Tart.
I start with a cinnamon spiced almond crust that's pre-baked to give the tart some of crunch.  I also roast my pecans in a sweetened butter to give them a golden brown finish.  The pecans are left to sit on the counter to cool and dry out after they are roasted.  This gives them a chance to get crunchy, too.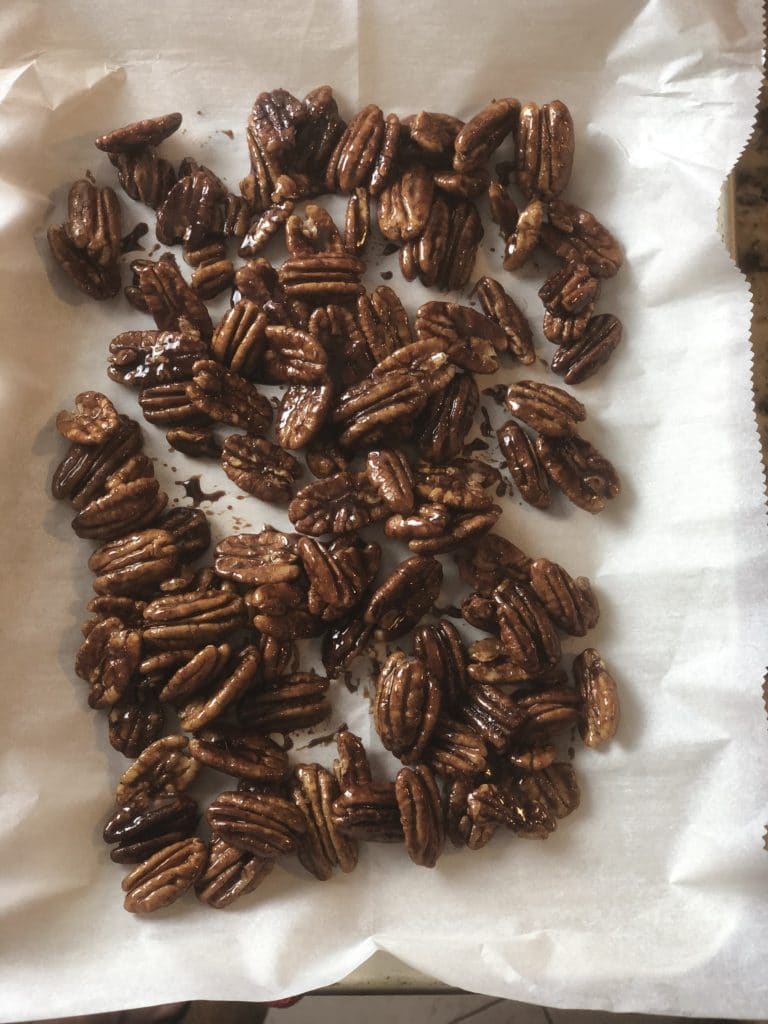 THE FILLING
Start with the Pumpkin Pecan Cheesecake Tart filling while the crust and pecans are baking. Bring the filling ingredients to room temperature to help prevent cracking in the cheesecake when you bake. Then using a hand mixer beat all the ingredients together for a few minutes and a nice creamy mixture will come together.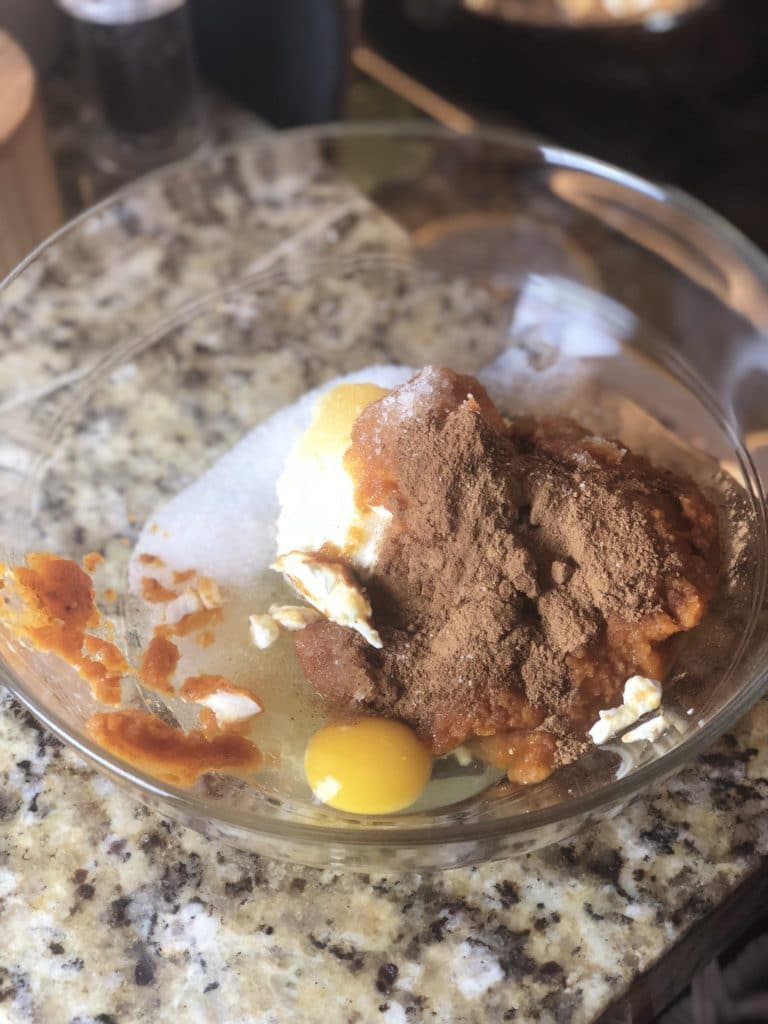 Cream the pumpkin puree, eggs and cream cheese together with the pumpkin spices into a smooth and creamy mixture.  When you smooth the Pumpkin Cheesecake filling into the cooled tart shell you want to use the back of a smooth spatula and smooth as much as possible.
THE TOPPING
While the Pumpkin Pecan Cheesecake tart is baking you can chop the pecans and set aside. When the tart is finished baking simply sprinkle the chopped pecans evenly over the tart and then it's ready to be served.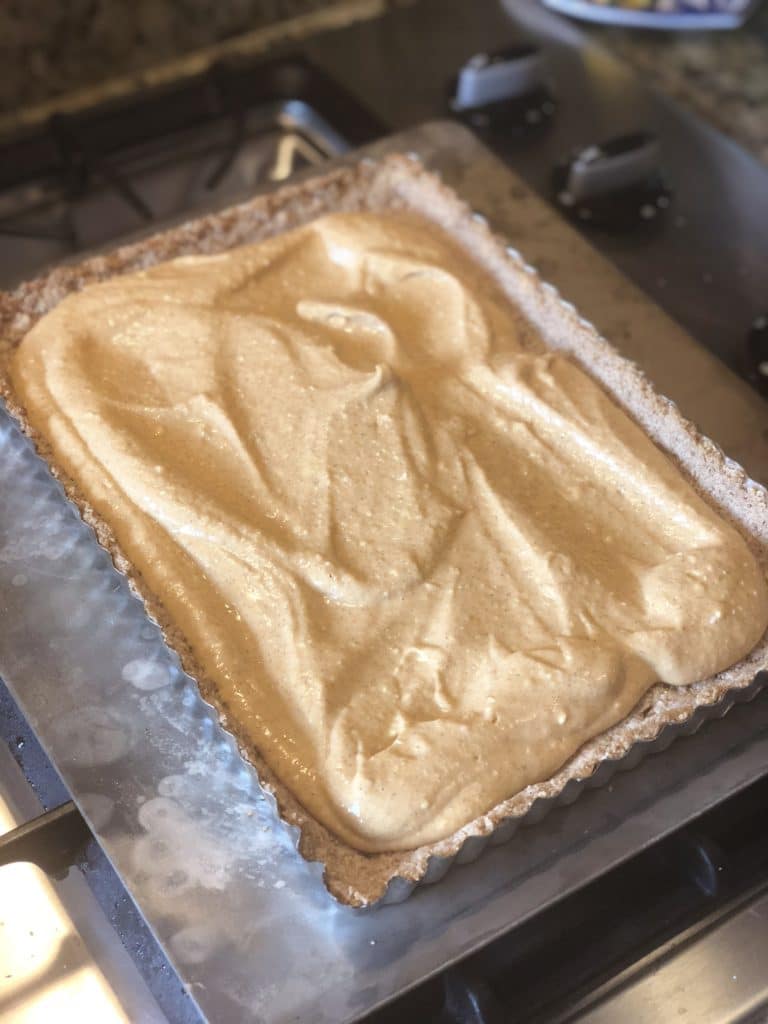 An Elegant Holiday Dessert
When you serve ANYONE a slice of this Pumpkin Pecan Cheesecake Tart and I'll guarantee this will be a new favorite! This Pumpkin Pecan Cheesecake Tart will be the most elegant dessert at your family gathering….and the least carbs.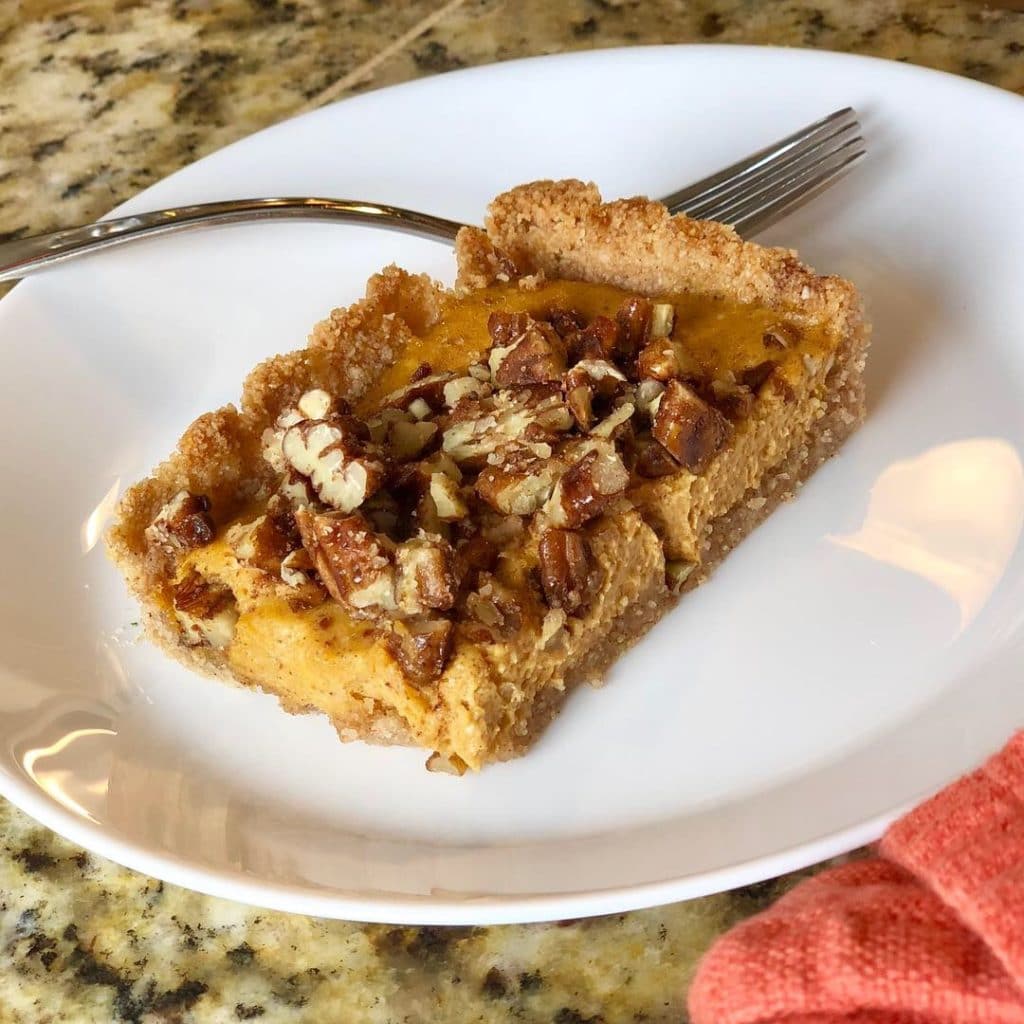 Servings:
10
Generous Slices
Ingredients
Instructions
CrustPreheat oven to 350* In microwave safe bowl melt the butter in 20 second increments until just melted. Add in the almond flour, salt, powdered xylitol and pumpkin pie spice. With a fork whisk together until crumbly. Press into an 8"x11"

tart pan

. *You can use any similar sized pan, but use parchment paper so you can lift the dessert out of the pan for display and to serve.Once the crust is pressed into the tin and up all sides poke entire bottom of the dough with a fork to prevent bubbling when you cook. Place tin in 350* oven for 10-12 mins. Remove from oven and let completely cool off to the side.

ToppingIn a saucepan mix together the butter, pecans, and 2 tbsp xylitol over low to medium heat until the butter is melted. In a separate small clean bowl mix together 1 tbsp xylitol and all the other spices.Stir the pecan butter mixture over low heat for 5-7 minutes, careful not to burn, but watchful that they are getting browned.Add dry spice mixture and toss to coat all the pecans. On a parchment lined cookie sheet lay out the pecans to cool completely and to dry.

FillingIn large clean bowl mix together all filling ingredients with a hand mixer on medium of high for 1-3 minutes or until all smooth.

Assembling the tart…Reduce heat on oven to 300*Place your cooked tart shell on a cookie sheet and spoon the pumpkin cheesecake filling into the shell and smooth gently with a spoon or spatula. Cook tart with filling for 30 minutes. Remove from oven and let cool completely.

Once the pecans are fully cooled and mostly dry finely chop them. Remove the outer rim of your

tart pan

or remove your tart from whatever pan you used and gently place your cooled tart shell on serving dish or cookie sheet. Sprinkle chopped pecans over the cooled tart, covering completely, (you may have a little extra chopped nuts that you can save for a later sprinkle over ice cream).Cover tart and refrigerate for at least 4 hours.Serve and enjoy.
Nutrition
Serving:
1
Generous Slice
|
Calories:
332
kcal
|
Carbohydrates:
9
g
|
Protein:
6
g
|
Fat:
31
g
|
Saturated Fat:
9
g
|
Cholesterol:
55
mg
|
Sodium:
242
mg
|
Potassium:
152
mg
|
Fiber:
4
g
|
Sugar:
2
g
|
Vitamin A:
86.2
%
|
Vitamin C:
1.6
%
|
Calcium:
8.4
%
|
Iron:
9
%
Tried this recipe?
Tag it on Instagram! #thekelliekitchen
(Visited 100 times, 1 visits today)